---
Calendar OF EVENTS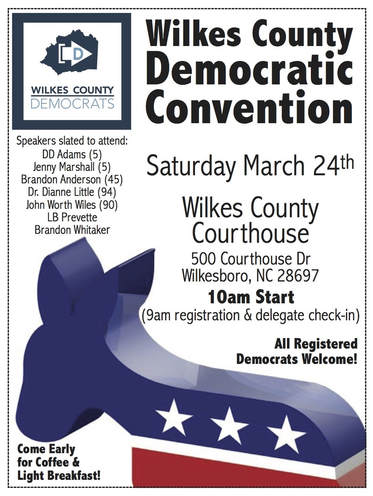 WILKES COUNTY DEMOCRATIC CONVENTION
Saturday, March 24th, 2018
Registration 9am ~ Meeting Start 10am
Wilkes County Courthouse - Upstairs
This annual convention is of all Precinct Chairs and those Precinct Delegates elected at last month's Precinct Organization to vote on any business at hand or resolutions to submit to the upcoming 5th District Democrat Convention. All registered democrats are encouraged to attend.

Download the 2018 convention_agenda.pdf
Senior Democrats
Wednesday, April 4th
Cagney's Restaurant
11:30am
Topic: Immigration
Wilkes Young Democrats
Wednesday, March 28th
Dem HQ - 313 9th Street, North Wilkesboro, NC 28659
7pm - 9pm
This is a re-organizational meeting. Leadership recently resigned and we need your involvement!
We'll be doing the usual: electing officers and planning the end of all regressive politics and attitudes in Wilkes, letting it become a better and brighter place to live. We will elect a Chair, Vice Chair, Treasurer, Secretary, Event Coordinator, Community Liaison, and College/High School Organizer.
We'll discuss upcoming opportunities to volunteer and get involved then plan future activities for the group. There's plenty to do to build momentum helping Brandon Anderson, LB Prevette, and all Democratic candidates in Wilkes get elected! Smart campaigning: Data, phone banking, canvassing, etc.

Young Democrats of NC Annual Convention is April 6-8 in Charlotte, NC. It's the 90th Anniversary of Young Democrats as an organization in North Carolina.

Now is the time to start innovating, building up our small communities inside Wilkes (Ronda, Purlear, Traphill, Boomer, Ferguson, Mountain View, Shepherds Crossroad, Austin, Hays, Brushy Mountain, Mulberry, Millers Creek, etc!) Dong this we keep government accountable!
Please visit our own website page
HERE
and follow our
FB page
for updates
5th District Democratic Convention
Saturday, May 5th
Mount Tabor High School
342 Petree Road, Winston-Salem, NC 27106
1pm registration
2pm convention begins
All delegates elected at the Wilkes County Convention are encouraged to attend. Resolutions will be voted on. No officer elections this year.
---
---