Come Here to Review Facts About Wilkes County in the Context of Our State & Nation
4 in 5 in US Face Near-Poverty, No Work

-"Nationwide, the count of America's poor remains stuck at a record number: 46.2 million, or 15 percent of the population, due in part to lingering high unemployment following the recession. While poverty rates for blacks and Hispanics are nearly three times higher, by absolute numbers the predominant face of the poor is white.

-More than 19 million whites fall below the poverty line of $23,021 for a family of four, accounting for more than 41 percent of the nation's destitute, nearly double the number of poor blacks. ""
-"12.6 percent of adults in their prime working-age years of 25-60 lived in poverty. But measured in terms of a person's lifetime risk, a much higher number — 4 in 10 adults — falls into poverty for at least a year of their lives.

-"The risks of poverty also have been increasing in recent decades, particularly among people ages 35-55, coinciding with widening income inequality. For instance, people ages 35-45 had a 17 percent risk of encountering poverty during the 1969-1989 time period; that risk increased to 23 percent during the 1989-2009 period. For those ages 45-55, the risk of poverty jumped from 11.8 percent to 17.7 percent."To read the entire report, go here.
Compare Your Family Income to Others in Wilkes, in NC & US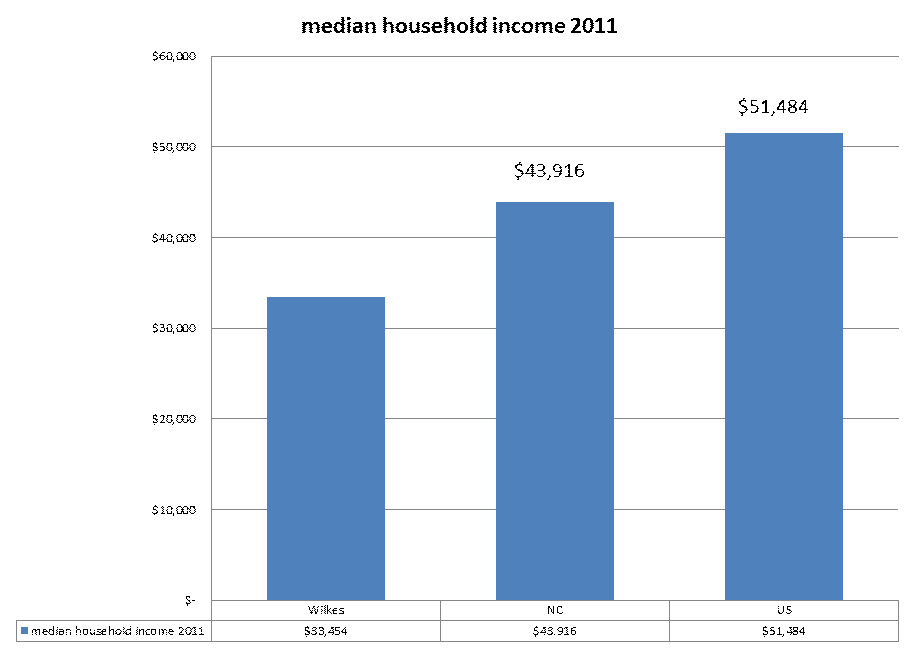 More Details and Graphs on Differences in Family Income
Consider more detail and how your family income and those of your neighbors have changed over past 30 years. Go
here
.