Eva working around the district
My Fellow Citizens,
The current leadership in Raleigh, including our incumbent Senator Shirley Randleman, has made radical changes since taking control of state government in 2013. I have decided to run for the NC Senate in order to
provide a choice
to our current representation in Raleigh. In the coming days, I will share comments on actions taken by our representatives and how these actions are affecting the people in our counties.
For prior policy statements, go here. Shirley Randleman: An Irresponsible Budget
Friends tell me that voters are not interested the state budget. However, a budget is t
he single document that reveals an institution's heart and soul.
So, to make an informed choice in an election, concerned voters must be interested in budgets. Suppose you had started a small business and made it a success. You then decided to retire and left the business to your son to manage. How would you feel if you learned that he had developed a budget which spent more money than was available? It would be time to have a heart to heart talk with your son.
We cannot have such a talk with our representatives, but it is time to call them to account. The fact is that every voter in Surry, Stokes and Wilkes counties has a representative in Raleigh, specifically Shirley Randleman, Jeffery Elmore, Sarah Stevens, and Brian Holloway, who are guilty of acts just as irresponsible as the son. Consider the evidence.
As in every case of responsible management of spending from a family, to a business to a government, a budget has two components: first, the plan for securing revenue and, second, the plan for spending. Today we will review the revenue side – how they propose to pay for our state services. Next week, we will look at how they propose to spend our money.
The Revenue Stream
Tax reform is overdue in North Carolina; however, the changes made in 2013 were irresponsible, driven more by ideology than facts, and have two long term results. First, the
burden of overall payment for our public services (education, roads, etc.) was shifted from the wealthy 5% of income recipients and corporations to middle income families in the state.
Secondly, the
reductions in overall tax revenue have resulted in a decline in revenue which simply will not pay for the public services and investments
which are necessary to maintain our current well being and improve our state for future generations.
Non-partisan
sources
predict that the revenue loss from the 2013 tax plan will be higher than the estimate used when creating this year's budget. (For access to the analysis, go
here
. ) Since North Carolina's state constitution requires a balanced budget, lawmakers will be forced to deal with the shortfall before the end of the fiscal year by cuts to state services or by using substantial amounts of one-time money, such as the state's Rainy Day Fund.
Consider the problem in Figure 3. Was this deliberate? Or simply fiscal ignorance? Either way, the consequences are the same and it can only be described as
irresponsible.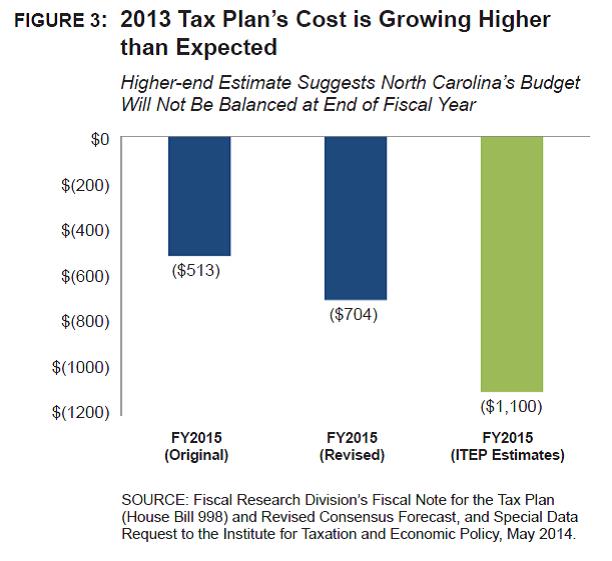 Long Term Effect of Tax Changes
When lawmakers met in 2014 to adjust the budget for the next year they were faced with a $452.6 million revenue shortfall for the fiscal year which was ending. In short, the
revenue the previous year was inadequate to pay for the promises made in the 2013
state budget. To address that shortfall they relied on a grab bag of smoke and mirrors. Consider some of the tricks used:
Requiring state agencies to spend less in the closing months of the prior year and return the savings to cover the shortfall.
Carrying over nearly $267.4 million in left-over agency funds to help balance the budget for FY2015.
For this year, revenues of nearly $20.96 billion are projected. Because those revenues are not enough to cover spending obligations our representatives had to come up with additional dollars. So what did they do? They scrambled to find the money to fill the hole. They
Diverted $45.4 million from several special funds,
Raised fees on restaurants' alcohol permits,
Tapped Medicaid savings.
In the end, after making minor tax changes and setting money aside for a backup fund for Medicaid our representatives spent every dollar available, leaving the state with little cushion if it faces any unanticipated expenses in the coming year. Of significance is the fact that a long term Republican member of the House of Representative, Julia Howard, who is the Chair of the House Finance Committee, voted against the budget because she said it was not
sustainable
. Three other House Republicans joined her in voting against the budget. Shirley Randleman
describes
her votes in Raleigh as "conservative"! Since when is a vote for a budget which doesn't balance "conservative"?
Will the Revenue Stream Cover Long Term Needs?
We should expect our representatives to put the long term interests of our children and grandchildren first. The current, 2015 budget, does not take care of our long term interests, particularly in education. It provides a historic low investment in our future in terms of the percentage of state income devoted to state services. When adjusted for inflation, overall state funding is $1.5 billion below FY2008 levels—the last budget in place prior to the economic downturn. Consider Figure 4.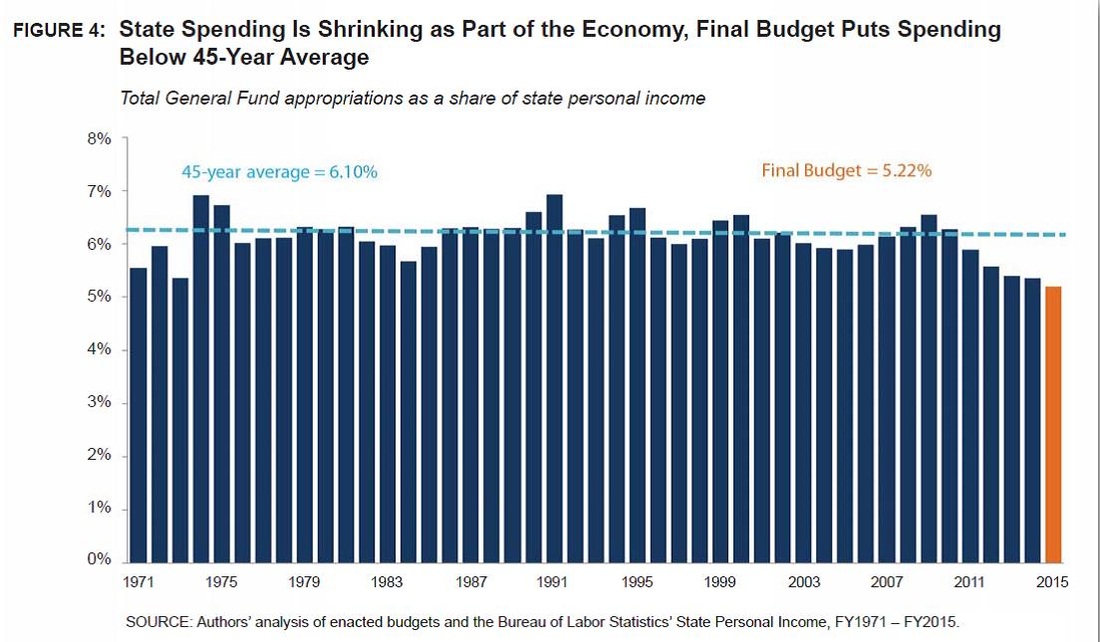 This budget marks the sixth straight year that overall state spending is shrinking as a part of the economy; the only time that this has happened dating back to 1971 (see Figure 4). State budgets typically allow spending to grow as the economy and population grow. Doing so helps ensure that state investments keep up with North Carolina's growing population and changing needs.
The decision by our representatives Raleigh to cut revenue below historic levels has serious long term effects. They include:
• Under investment in education which will cause North Carolina to fall further behind the rest of the nation in the production of an educated population which is the essential foundation for economic growth.
• Rural counties, such as Stokes, Surry, and Wilkes, will find that traditional support from state funds coming from richer urban areas is reduced, thus leaving local governments to allow services such as education to wither or to raise property or other taxes to offset the decline in state support. This is already happening. Shirley Randleman refers to this as "new conditions".
• Increased unemployment in the state. Already, the unemployment rate has gone up for three of the last four months and hit 6.8 percent in August. Read it
here
.
Whether Shirley Randleman knew the budget was fiscally irresponsible or whether she was just taking orders from others in Raleigh is unclear. In either case, she has not been representing the interests of those who live in the 30th Senate District, and it is time for their employers - that's you, the VOTERS of Stokes, Surry and Wilkes Counties to choose a replacement.
I'd love to know what you think. Share your thoughts with me at
eva@wilkes.net
.
A letter to the teachers of stokes, surry and wilkes counties
"Those who know, do. Those that understand, teach."
Aristotle
(From Eva's recent Letter to Teachers,...)
" We have many great teachers, willing to work the long hours, put up with a lack of help, burdened with book work, and disrespected in some media outlets. Worst of all is being taken for granted by a Governor and a General Assembly that seems to want make your job more difficult than it is already."

" Elections have consequences. You have an opportunity to tell those in office how you feel about what they have done to you as a professional and how they are depriving the children in our state of the opportunities you wish to provide.
Senator Shirley Randleman voted for all the changes without any misgivings and even defended them. We do not need a more egregious example of how she thinks. We need someone who will stand up for our teachers and the education of our population, to make this a better state and a better country. There are two political parties for a reason, because we need diversity and control when it comes to making sweeping changes that affect the public. I ask for your support and your vote in the November election. As always our children and our future depend on you. "
Respectfully,

Eva P. Ingle
Read the entire letter
here
.
Who is Eva ingle?












Eva & family, July 4th, 2014

---

Eva Purdom Ingle, is a resident of upper Sheets Gap Road in Wilkes County, Eva grew up in Greensboro. She is a graduate of Agnes Scott College, where she worked her way through college as a work-study student. She earned an MBA from the University of Minnesota. She taught 4th grade in Ashe County and over her career has worked as a Certified Public Accountant in Minnesota, Indiana and Boone, North Carolina.

Ingle served as a Peace Corps Volunteer in the Philippines. Since returning to North Carolina and taking up residence in Wilkes County in 1995 she has been continued her volunteer work by serving on the Boards of the National Committee for the New River, the Paul and Florence Thomas Memorial Art School, and the Ashe Civic Center, where she has been active in organizing the Blue Ridge Brutal Bike Ride. She has been an active member of her church for over 50 years. In all these organizations she has gained a reputation for close monitoring of expenditures. If chosen to serve the District, she will take that habit to Raleigh. She has been married to Clyde for 53 years and is blessed with a daughter and son and five grandchildren.

Eva at Stokes County Executive Committee Meeting

Why Has Eva Filed to run for the NC Senate, 30th District?

" I have entered this race because the moderate, responsible representation of years in our region has deteriorated since 2010. It is time the people of the district have an opportunity to express their opposition to the sweeping changes made to North Carolina laws in the 2013 session of the General Assembly. If people support the present course in our state, they should support my opponent. If they have had enough of these far reaching changes , I invite them to vote for me."

Stokes county

---

Turn yOUR rADIO oN!

Lend a Hand, Make a Contribution?

I don't expect any big money to support my campaign. Your help is greatly appreciated. Go here to make a contribution.

Surry County Rally

Share Your thoughts and suggestions